BORDEN RADIO COMPANY
WWW.XTALMAN.COM
Crystal Radios One Tube Radio Kit Crystal Set Antenna Tuner QRM Rejector Filter Crystal Set Amplifier World War II Fox Hole Radio Foxhole Razor Blade Radio Radio Parts and Supplies Antique Radio Restoration Antique Radio Schematic Diagrams
**************************************
THE EARLY ZENITH RADIOS BOOK !!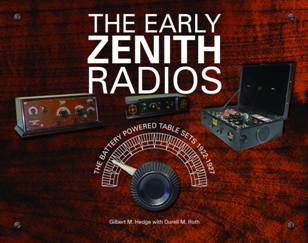 EVERYTHING YOU COULD POSSIBLY WANT TO KNOW ABOUT THE EARLY ZENITH BATTERY RADIOS!!
GET A "SIGNED BY THE AUTHOR COPY" HERE TODAY!! $45.00
THE EARLY ZENITH BATTERY POWERED TABLE SETS 1922 to 1927
By Gilbert Hedge with Durrell Roth
Click on Link Below (EARLY ZENITH RADIOS BOOK FOR A YOUTUBE VIDEO DESCRIBING THE BOOK)
*****************************************
EMAIL wb5rex@earthlink.net

Please check back occasionally for new developments!

(Revised 11/27/2016)